Je handen zijn natuurlijk je kostbaarste bezit als je een praktisch beroep uitoefent. Goede werkhandschoenen helpen je je handen te beschermen tegen bijvoorbeeld snijverwondingen. De testmethode en normering voor snijbestendige werkhandschoenen is laatst herzien en aangepast. De bijbehorende EN388 normering vertelt je in welke mate jouw werkhandschoenen je tegen dergelijke verwondingen beschermen.
Wat is er veranderd?
Het grootste verschil ten opzichte van de oude EN388 normering is de manier van het testen van de snijbestendigheid. Waar de 'oude' norm enkel een mes over de werkhandschoen van de ene naar de andere zijde liet draaien onder gelijkmatige druk, meet de nieuwe norm de kracht die vereist is om door de werkhandschoen heen te gaan. Daarnaast wordt de werkhandschoen bij de test op een bol oppervlak gelegd in plaats van een vlakke ondergrond. Deze testmethode geeft een betrouwbaarder beeld, waardoor een snijbestendige handschoen nog veiliger is!
Een ander belangrijk verschil is de snij-index; deze werd voorheen weergeven met de cijfers 0 t/m 5, terwijl dit nu in een A t/m F-score is geworden. De score werd voorheen uitgedrukt in een viercijferige code; dit zijn nu vier letters geworden. Hierbij staan de laatste twee letters voor de mate van stoot- en snijbestendigheid. Hieronder zie je hoe dit er in de praktijk uitziet: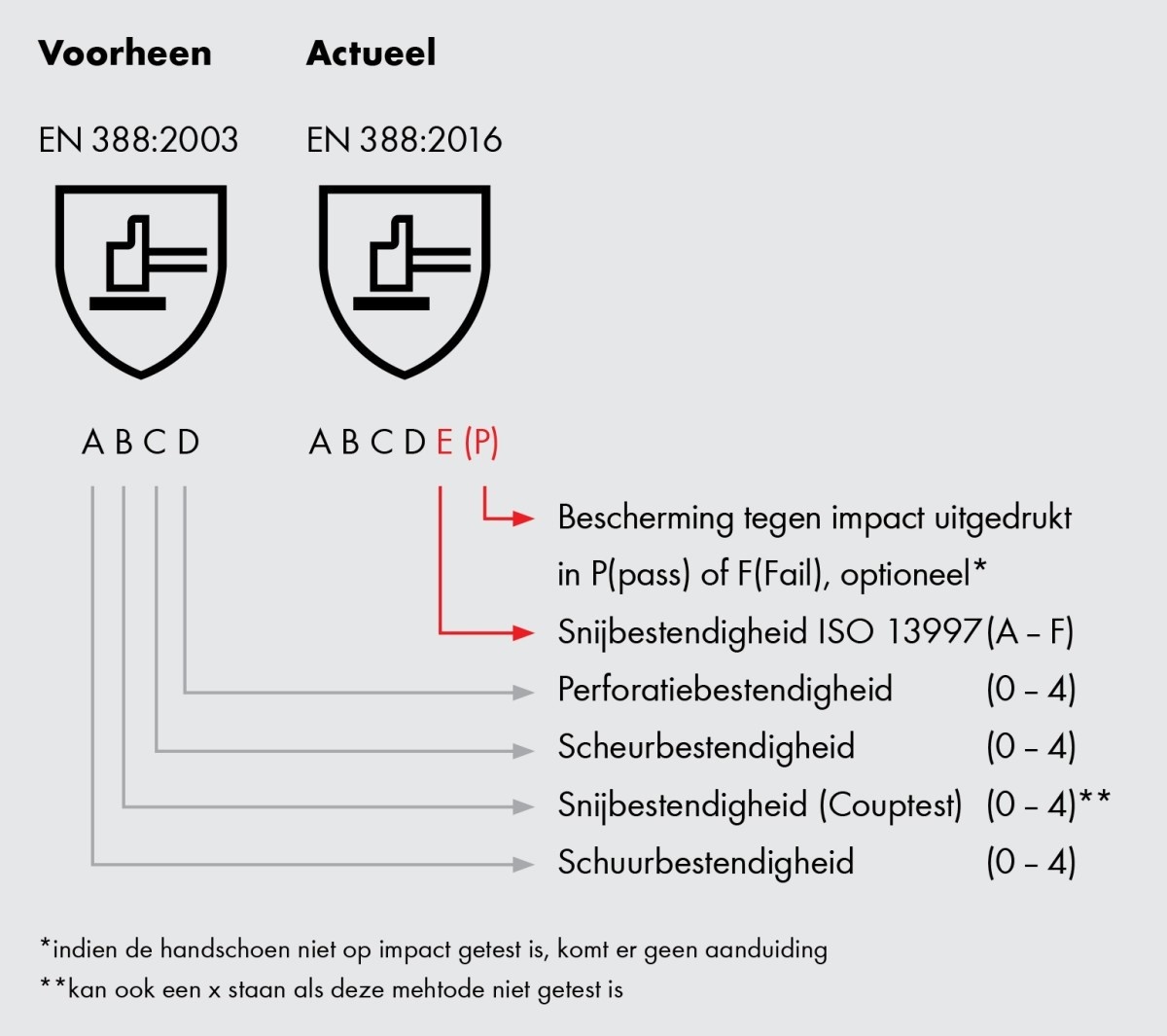 Welke snijbestendige handschoenen zijn geschikt voor mij?
Welk paar werkhandschoenen het meest geschikt voor jou zijn hangt ook af van de omgeving waarin je werkt. Werk je bijvoorbeeld in een droge omgeving of juist een olieachtige omgeving? En is een goede vingergevoeligheid bij jouw werkzaamheden erg belangrijk of juist wat minder van belang? Als je deze vragen kunt beantwoorden, kun je veel gemakkelijker het juiste paar snijbestendige werkhandschoenen kiezen! Alle normeringen staan altijd op de werkhandschoenen vermeld.
Heb je nog vragen over deze vernieuwde normering? Of wil je een paar snijbestendige handschoenen kopen en wil je hierover advies? Wij helpen je graag voor een advies op maat! Kijk ook eens rond tussen alle snijbestendige handschoenen in ons assortiment of neem eens een kijkje tussen alle werkhandschoenen die wij in ons assortiment hebben.